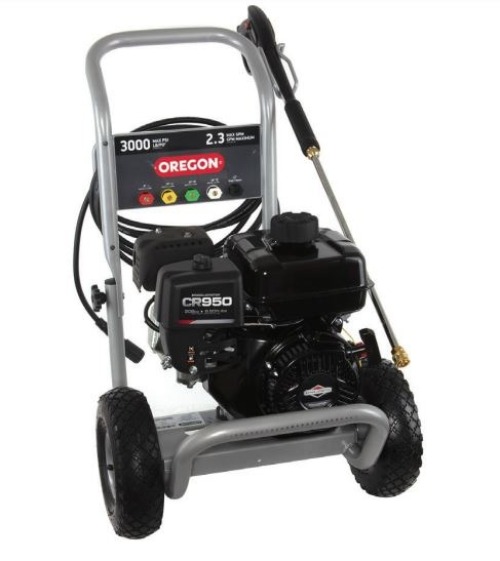 Oregon 3000 PSI Pressure Washer with Briggs & Stratton Engine (20820)
Price: $ 350.00

$ 350.00

Condition: New In Stock
---
Oregon 3000 PSI Pressure Washer with Briggs & Stratton Engine (20820)
Strip away dirt, mold, and tough stains with our new line of Oregon cold water pressure washers! Keep your deck, drive, and garage floor clean in a fraction of the time and with up to 75 times more force than a garden hose. Oregon, a name long respected by outdoor power pros, does not disappoint with these pressure washers built to deliver with all the power and performance the tough jobs demand.
The Oregon 3000 PSI Power-Grade Pressure Washer is built to deliver the power and durability required for more demanding household tasks
including paint preparation, oil stain removal, and cleaning of driveways, siding, and second stories.
Max Volume 3000 PSI
Max Velocity 2.3 GPM
Engine 208cc, Briggs & Stratton CR950 SeriesTM
Pump Type Heavy-Duty Axial Cam
choosing a selection results in a full page refresh